Witchy Simone Ruins Everything is the twenty-third episode of the first season of Mighty Magiswords, and the twenty-third episode overall. It will air on July 2, 2017.
Sypnosis
Witchy Simone joins Witch Way, but Gateaux is the odd cat out so he hires the Warriors to break up Witchy Simone and Morbidia and defeat a mission that has King Rexxtopher hopping mad!
Characters
Major Characters
Minor Characters
Magiswords used
Blow Dryer Magisword
Hoverswords
Ninjapperance Magisword (debut)
Bag of Snakes Magisword
Boulder Magisword
Laser Pointer Magisword
Retractable Ladder Magisword
Spiderweb Magisword
Sleeping Dragon Magisword
Brick Magisword
Mega-Drill Magisword
Excavator Magisword
Boomerang Magisword
Claw Magisword
Hook Magisword
Electric Eel Magisword
Super Teamwork Combo
TBA
Trivia
Rumor has it that it was going to be the series' first 22 minute special, but that episode turned out to be The Saga of Robopiggeh.
This episode reveals that witches can switch powers with each other upon hand touch contact, and that Witchy Simone has a sister named Witchy Sparkles.
Gallery
Design
Storyboard
Promo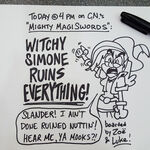 Ad blocker interference detected!
Wikia is a free-to-use site that makes money from advertising. We have a modified experience for viewers using ad blockers

Wikia is not accessible if you've made further modifications. Remove the custom ad blocker rule(s) and the page will load as expected.