Witchy Simone Ruins Everything is the twenty-fourth episode of the first season of Mighty Magiswords, and the twenty-fourth episode overall. It was air in Cartoon Network Phillippines on May 3, 2017 and it aired in the US on July 2, 2017.
Sypnosis
Witchy Simone joins Witch Way, but Gateaux is the odd cat out so he hires the Warriors to break up Witchy Simone and Morbidia and defeat a mission that has King Rexxtopher hopping mad!
Characters
Major Characters
Minor Characters
Magiswords used
Blow Dryer Magisword
Hoverswords
Ninjapperance Magisword (debut)
Bag of Snakes Magisword
Boulder Magisword
Laser Pointer Magisword
Retractable Ladder Magisword
Spiderweb Magisword
Sleeping Dragon Magisword
Brick Magisword
Mega-Drill Magisword
Excavator Magisword
Boomerang Magisword
Claw Magisword
Hook Magisword
Electric Eel Magisword
Super Teamwork Combo
Hooked on an Eeling (Hook Magisword + Electric Eel Magisword)
Trivia
Rumor has it that it was going to be the series' first 22 minute special, but that episode turned out to be "The Saga of Robopiggeh".
This episode reveals that witches can switch powers with each other upon hand touch contact, and that Witchy Simone has a sister named Witchy Sparkles.
This also reveals Witchy Simone use magic to change clothes.
This marks the first time in this episode when Morbidia, Gateaux and Witchy Simone sets foot at the Dinosaur Kingdom.
When Gateaux is easily distracted by a Laser Point Magisword is brought up again since from a minisode "Too Many Warriors".
You can get the Ninjapperance Magisword from the MagiMobile app.
Gateaux forced Morbidia to renegotiate the conditions their partnership. These include:

Two cheat days on his diet. (Originally he was only permitted one day)
Five allowed instances of talking back to Morbidia without reprocussions per week.
One mandatory hug per month from Morbidia, despite her claims of being allergic to open displays of love.

Moribia mentions to Witchy Simone she missed her seniors years at the Adventure Academy which implies that she is a senior.
This is the first time Morbidia impersonates a character's face. In this case, she impersonates Gateaux.
Episode Connections
Gallery
Model Sheets
Storyboard
Video
Promo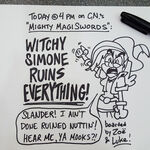 ---
Mighty Magiswords episodes