Vambre Warrior

Gender
Female
Role
Ally

Hero

Hair color
Violet
Eye color
Red-Pink
Relationship
Zombie Pumkin Magisword (love interest)
Family
Prohyas (brother)
Kablammica Warrior (mother)
Norman Warrior (father)
Nana Warrior (grandmother)
Friends
Prohyas, Grup the Dragon, Princess Zange, Ralphio, Old Man Oldman (at times), Witchy Simone, Omnibus
Enemies
Hoppus (at times), King Rexxtopher (at times), Phil, Queen Porcina, Old Man Oldman (at times), Robopiggeh, Helmut, Pirates
First Appearance
"To Boulderly Go"
Latest Appearance
"Gut Feelings"
Voiced by
Grey GriffinDeeDee Magno Hall(steven universe special$
Vambre Warrior is a warrior, the older twin sister of Prohyas, and one of the main protagonists of Mighty Magiswords. She is voiced by Grey Griffin.
Appearance
Vambre is a young woman who appears to be in her early twenties, with notably thick hips and thighs. She is fair skinned, with long violet hair and red-violet eyes. She usually wears a short-sleeved teal-green leotard held by a black belt, with blue-green gloves and boots trimmed black, and a yellow cape. Along with this, she often sports lime green circular earrings and a headband.
Personality
Vambre is candid and aggressive. Like her brother, she is very adventurous, seeking to go out on many a quest in order to prove themselves as warriors. As exemplified in various shorts, she dislikes it when people pick on her brother, and will defend him when necessary. She despises pants, sporting a teal-green leotard instead. In certain episodes, she is heard saying "och", a nod to her British /Australian accent. She also has an irrational fear of squirrels, dating back to a childhood incident when squirrels harassed her.
Origin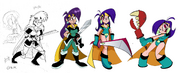 The main Mighty Magiswords characters were created in 1996 when Kyle A. Carrozza was in high school. In the Legendary Warriors for Hire, Vambre wears a yellow cape pants and like the 1996 drawing, wears black boots. In the other versions, she is without pants. In all versions, she was the serious leader of the Warriors for Hire and was originally the only one to use swords.
Episodes
As a main character, Vambre has appeared in every episode so far.
Trivia
Ad blocker interference detected!
Wikia is a free-to-use site that makes money from advertising. We have a modified experience for viewers using ad blockers

Wikia is not accessible if you've made further modifications. Remove the custom ad blocker rule(s) and the page will load as expected.