"Hands Down"
Season 0, episode 5


Production code:
005
Airdate:
August 3, 2015
Title Reference:
Hands Down
Credits
Director:
Nick Bertonazzi Jr.
Story:
Kyle A. Carrozza
Written &
storyboarded by:
Kyle A. Carrozza
Episodes
Previous
"Bark Attack"
Next
"The Land Before Slime"
"Hands Down" is the fifth short of Mighty Magiswords.
Synopsis
When Old Man Oldman hires the Warriors for hire to do some yardwork, they end up fighting a giant beast.
Characters
Major characters
Supporting characters
Minor characters
Mentioned
Magiswords used
Ground Pound Magisword (mentioned)
Lobster Claw Magisword (Vambre; 2)
Snowball Magisword (Vambre; 1)
Sleeping Dragon Magsiword (Prohyas; 1)
Tomato Magisword (Vambre; 2)
Pencil Magisword (mentioned)
Radiator Magisword (mentioned)
Nail Clipper Magisword (Vambre; 1)
Trivia
This is the first appearance of Old Man Oldman, Hoppus and The Underground Hand Beast.
Old Man Oldman now seeks revenge against the Warriors for Hire for ruining his lawn.
This short reveals that Vambre wears gloves because her hands despise the cold and she hates it when she clips her fingernails too close.
Prohyas hates it when his hand falls asleep and when he gets pencil stuck under his fingernails.
Gallery
Video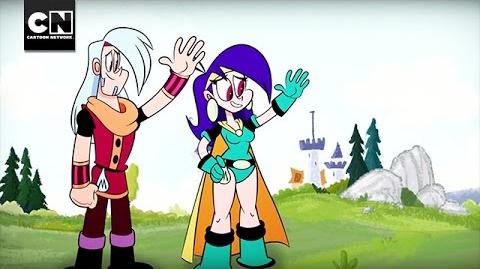 References
Ad blocker interference detected!
Wikia is a free-to-use site that makes money from advertising. We have a modified experience for viewers using ad blockers

Wikia is not accessible if you've made further modifications. Remove the custom ad blocker rule(s) and the page will load as expected.