Elect to Decline is the twenty-seventh episode of the first season of Mighty Magiswords, and twenty-seventh episode overall. It will air on July 6, 2017.
Sypnosis
Noville wants to impress Vambre with a new Magisword from the Cave of Stuff, but the Cave Weirdos are in election mode and horrible smear campaigning makes Noville's simple task impossible.
Characters
Magiswords used
Swish Navy Magisword
Cardboard Replica Magisword
Wad of Gum Magisword
Tomato Magisword
Dirt Magisword
Paper Bag Magisword
Bling Bling Magisword
Dolphin Magisword
Oinkus Oinkus Magisword
Beginner Shield Magisword
Sun Face Magisword
Super Teamwork Combo
Crystal Container (Paper Bag Magisword + Bling Bling Magisword )
Episode references
Gallery
Promo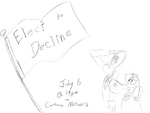 Trivia
Springs, the garnish-themed restaurant, makes its on-screen debut in the episode.
Storyboards
Model Sheets