Don't Read the Comments is the thirty-sixth episode of the first season of Mighty Magiswords, and thirty-sixth episode overall. It aired on July 14, 2017.
Sypnosis
An obsession with comments and criticisms about him on the Board of Opinions drives Prohyas nuts, affecting Warrior missions for the worse and raising Vambre's ire.
Characters
Magiswords used
Pencil Magisword
Cat Tongue Magisword
Microphone Magisword
Parrot Magisword
Claw Magisword
Retractable Ladder Magisword
Electric Razor Magisword
Foam Finger Magisword
Bulldozer Magisword
Rad Rocket Magisword
Hover Sword
Chainsaw Magisword
Wad of Gum Magisword
Beehive Magisword
Cheese Magisword
Brick Magisword
Jackhammer Magisword
Dolphin Magisword
Super Teamwork Combo
None
Trivia
The premise of this episode is similar from the SpongeBob SquarePants episode "Bulletin Board".

This could be a reference of trolling or cyberbullying from chatrooms and social media.

The reason Prohyas is obsessive over for a strange anonymous comments on the Boards of Opinions was presumably Gracie and Alex who were writing those comments.
Final appearance of Frankie Jupiter as creator Kyle Carrozza felt the future episodes' storylines weren't song-worthy enough for him to appear.
Morbidia reveals she has a soft side of Trilabytes, when used to collect Piggypie Jones toys as a kid.
The suspicion and rumor of the episode being based on the creators' personal views on negative criticism is open to question as neither the crew of the series or Cartoon Network has confirmed of it to be the case.
Gallery
Storyboards
Model sheets
Behind the Scene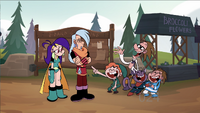 ---
Mighty Magiswords episodes