"Hoppus, the village needs you, I need you."
Danelda is a rabbit Magisword user and broccoli farmer, as well as a recurring character on Mighty Magiswords. She is voiced by Michaela Deatz.
History
Danelda was originally part of a three-rabbit team consisting of herself, Hoppus, and an as-yet unidentified third member. According to Danelda, their third teammate went completely power-mad, causing Hoppus to abandon their home village; leaving it in disarray.
Some time later, she gained information from some pirates and Ralphio regarding Hoppus' whereabouts, and tried to force him to come back to their village. However, Hoppus was content with his life as a mercenary and frequent visitor to Norman Warrior's Broccoli Farm for Kablammica's broccoli soup. Though she failed to convince Hoppus to return home, she enticed Norman into making her a farmhand by promising to work for broccoli soup. This way, as Danelda coyly explained to Hoppus, she would always be on the farm whenever he visited.
Personality
Danelda has a sassy attitude and gains a smile or laugh when she pesters her friends. She is also willing to use the concept of rabbits being cute to her advantage, such as when she convinced Norman to hire her. However, Danelda is also a fierce combatant who is very skilled at using her Levitation Magisword. Her mastery of this Magisword is proficient enough that she is able to use its power to lift and throw opponents much larger than her against a wall, as well as remotely grab people by their shirt collars, with seemingly little to no effort.
TV series
Danelda's biggest role so far is in her debut episode, "Hoppus the Hunted", where she tries, without success, to make Hoppus return to his village. However, she ultimately decides to live with Norman on his broccoli farm, just to annoy Hoppus.
Origin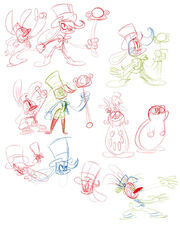 The character was created in 2013 with an over-protective and supportive little brother and a beast-like pet. Danelda didn't have a purpose at that point until the Magiswords TV series came in production.
Trivia
Her voice is similar to Amethyst from Steven Universe because Michaela Deatz voices both characters.